City shticker
Rightwing douche screams at dirty DC for the rubes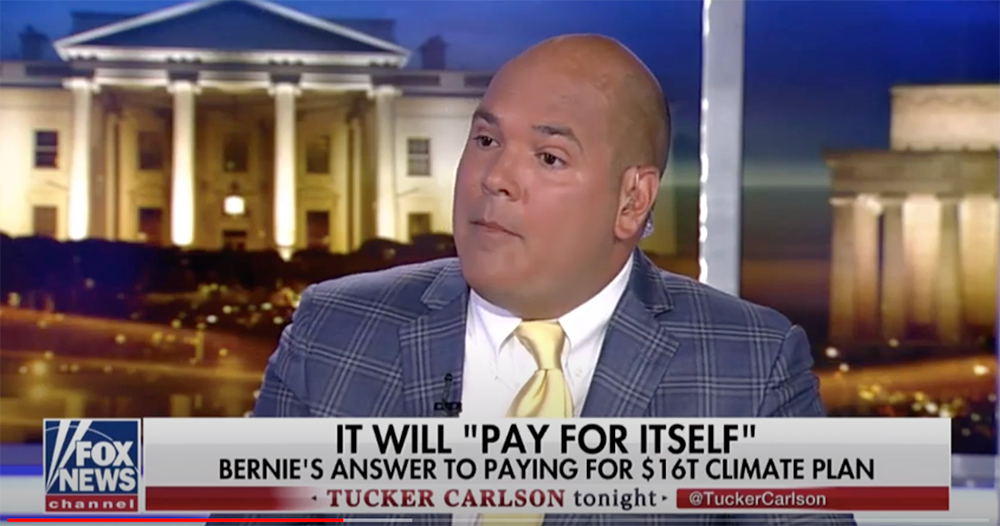 Mr. Big City, on Fox.

I have mentioned to you good people before that Washington, D.C., is a drag, and was a drag even before lockdown. It's more suburban than urban (my standard way of explaining it to New Yorkers is, it's like one square mile of Federal Plaza surrounded by nine square miles of Queens), sleepy, provincial, etc.
But I've found a few things to like about it over the years, and sometimes even feel a little defensive of the place — like, for instance, when a straight-up asshole talks it down, as did rightwing dairy queen Senator Tom Cotton this summer, when he pooh-poohed D.C. statehood by saying Wyoming, with a population of about 300 people, yet deserved statehood more than us because Wyoming was a "well-rounded working-class state" (i.e. white) whereas D.C. was full of bureaucrats and people who would be "nothing more than an appendage of the federal government," hint hint welfare queen/young bucks. (This is the same Tom Cotton who recently said American slavery was a "necessary evil," then tried to get out of it by saying don't blame him, it was our beloved Founding Fathers who said so.)
The latest and perhaps most obnoxious of these assholes is one Daniel Turner, one of those doughy young Republican think-tank types; he has taken to wingnut stroke-book Human Events to announce he is leaving D.C. for the suburbs (the even-more-suburbs, I guess — Virginia, where a man can still fly a Confederate flag and not get "cancelled" for it).
Turner wants you to know he's a sixth generation New Yorker, and his Uncle, a former Congressman, claims he can trace the family's Gotham heritage back to "Manhattan since the 1840's." This suggests not the proud old-timers of stoop Brooklyn one normally associates with Old New York — to which Turner refers in his obnoxious tweets to imply that he's a ruff-tuff street type — but rather old white 19th-Century Knickerbocker knobs who've been spitting at immigrants since they were coming over in wooden ships.
Turner says he moved to D.C. 17 years ago "for work" — apparently running a Koch family oil-and-gas industry front group. He says it was "exciting" to be here after New York (LOL OK buddy bet the money was a thrill) because he "witnessed the birth of entire neighborhoods: Shaw, 14th Street, The Atlas District, Navy Yard, Ivy City, The Wharf." Basically, the first three of those are black neighborhoods that got gentrified ("the Atlas District" is just a developer name for H Street NE), but without rendering them too much uglier physically: to make the latter three more marketable, developers had to lay in massive piles of hideous condo buildings that dwarf whatever attractions the places originally had, turning them into barren yuppie necropoli.
Not that Turner discerns any difference. Here's a sampler of what Mr. Old New York finds "exciting": "multi-million-dollar row houses were restored, new condos arose, and wine bars and gyms multiplied like Abraham's offspring."
But it hasn't been all craft beer and artisanal skittles for Turner: He's had to put up with his "fair share of homeless people" and "the occasional crazy guy on the street." Back in the day, before it all went sour, such obnoxious unfortunates were to him mere nuisances, the debris of capitalism. He felt swell, and considered himself a sort of gym-and-wine-bar City Father: "My role in the fabric of urban society, overlooked but essential," he declares, "was to spend my money."
That's creepy enough, but the weirdly aggrieved "overlooked but essential" will give you some idea of where he's going with this, for Turner, like most conservatives these days, feels ill-used; despite his enormous earnings and privileges, he thinks society has broken faith with him. Though he played his "role in the fabric of urban society" by pumping haute cuisine into his maw and tipping his waiters the going rate, feeding parking meters and paying such taxes as his accountant could not exempt him from, he is not getting the deference he feels he is owed:
Now, we have riots, vandalism, and looting. "Protesters" set fire to an historic church and tear down statues. The protests, they say, must disrupt the status quo — and egging them on are media personalities like CNN's Chris Cuomo, who said live, on the air, "please show me where it says protests are supposed to be polite and peaceful?"
As a frequent protestor I keep telling dumb outlanders that nothing even resembling a riot has occurred in D.C. since early June, despite the propagandists using that word for every march and demonstration, secure in the knowledge that their target readers already think every city is a Death Wish theme park and every not-entirely-white gathering a riot. Here's Mr. Big City pulling the same shtick:
I used to go for afternoon tea at the St. Regis Hotel on 16th Street; it's now been renamed to "Black Lives Matter Plaza."
Blink. Blink.
Tea was expensive, excessive, and extremely elegant served impeccably in a magnificent room to properly attired patrons who politely spoke in hushed tones, a little taste of a bygone era when etiquette and formality were still appreciated.
The St. Regis is now girded with plywood barricades that have been spray painted with curse words.
LOL, number one, the plywood on the St. Regis has been curse-word free on every one of the many times I've visited BLM Plaza (maybe they were only doing curse-words at tea-time!); number two, things are tough all over, in case you haven't noticed, and the St. Regis tea room closed because of COVID-19, not because of "riots," and number three: "extremely elegant served impeccably in a magnificent room" PFFFFFT I'm supposed to feel bad for you?
Outside, people routinely set fires and have fights with the police.
Bullshit. Seriously, what else can I say? That's bullshit. I mean his whole essay is bullshit in the general sense, but this is bullshit in the specific sense of "embarrassingly obvious lie."
Turner declares "there is no alternative but to leave" and of course predicts we'll all be sorry he left:
Real city people have no bandwidth to lay down dead in the street or start fires as part of a "protest." Look at our day: after our miserable commute to work, we have long days in the office, followed by happy hour, client dinners, drinks, maybe a fundraiser or two or having cigars at Shelly's — and that doesn't include going to the gym, picking up dry cleaning, seeing our actual friends or spouse, and that miserable commute back home.
So, "real city people" means "rich cunts who have no idea other people work their asses off just to live while they take cigars at Shelly's and tea at the St. Regis with the money they make pimping for the worst people on earth."
Thereafter Turner puts out still more ridiculous scary-urban stories for whatever rubes might go for it — "a homeless guy defecating outside [my] window," always a popular favorite with the feces-obsessed Right, "streets full of urine and stinking of marijuana," and, Lord help us, "mask-shaming" — yes, while portraying himself as Mr. Big City, Turner goes so far as to ape the QAnon/antivax/antimask nutcake perspective of the most backwater Red State Republican gomers.
And why shouldn't he? Turner has gone whole hog, decamping for the high-class sticks: "Deer at dawn and stars at twilight. My dog runs through the woods and plays in streams. Ample parking day or night, people shouting 'howdy neighbor.'" To someone who actually does like city life, it sounds dull, and the "South Park" quote he slips in there suggests Turner isn't sincerely sold on it either (maybe nobody actually says "howdy neighbor" or anything like it to him; would you?). But he also knows, as a made man in the death cult of modern conservatism, that folks who are scared of cities are his movement's only hope, so perhaps he hopes his stupid article will be taken seriously by a few such people. Or maybe it's really not about anything more than the Kochs giving him a fat raise that allowed him to move to a McMansion out in Bumfuck, and he decided to make a twofer out of it with an I-didn't-leave-D.C.-D.C.-left-me essay that'll get him in good with his bosses. Why not? It's not like these guys ever got anywhere telling the truth.