Discover more from Roy Edroso Breaks It Down
Notorious gadfly nips at feebs, dweebs, and other enemies of the Republic.
Over 2,000 subscribers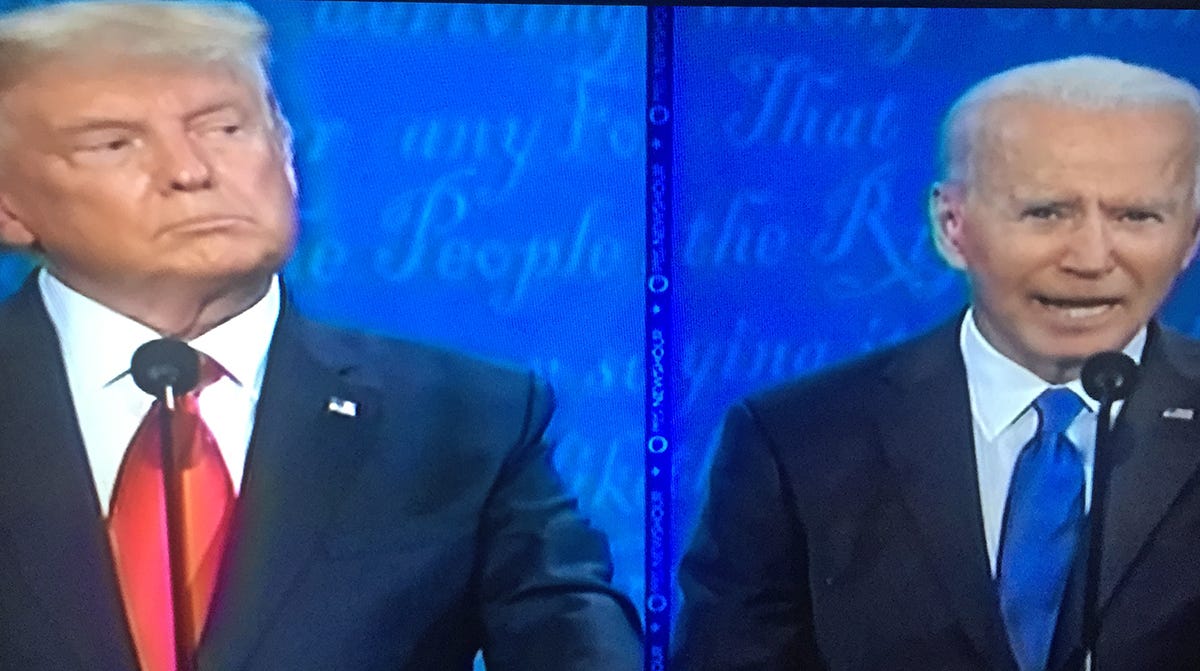 During this election season — the long season, from the seemingly endless primaries to the seemingly endless general election campaign — in a weird way, I came to see why Trump's people loved him, or at least used to. So many 2020 candidates were trying to thread the needle, and labored to "stand out" on the arid terms of modern American politics while avoiding controversy. It was like watching someone trying to dance in a cow pasture without stepping in shit. I can see why Trump, who in 2016 just did whatever nonsense came into his fat head, was refreshing to them.
So it was interesting, at the start of Thursday's debate, to see him trying to stay on topic — lying responsibly, as it were, rather than freestyling; claiming again that the virus was Going Away, that he has a vaccine ready (!?), that's he's been "congratulated" by "world leaders" — all absurdly false, but at least close to within the traditional purview of American political lying. In fact when pressed by the moderator (back when she was paying attention) he actually backed off on his original vaccine claim, saying he didn't guarantee it. He was trying to sound presidential!  I wonder who told him to do that.
Since both candidates aren't very eloquent — Biden is watery and non-committal; Trump is incoherent and unbelievable — this was a static situation and it could have gone either way.
But then Trump started talking about China, and mixing up his responsible-president routine with his "Joe is locked in the basement" bit. And then he went off the rails.
It's one thing to be a careless, carefree liar when you're just some rich guy having a laugh at the squares. But now, when you see Trump rattling off nonsense about Fauci — look, he's a good guy, I don't know maybe he's a Democrat, we just disagree! after the moderator quoted him calling Fauci an "idiot" — who believes that? When he says "nobody was ever treated as badly as me" — who sympathizes? When he says Barack Obama told him we had to go to war with North Korea — who doesn't think, what the fuck?
And that was when you could figure out what he was saying. When Trump said something about Biden selling "sheets and pillows" to the Russians, it was clear someone told him something about sheets and pillows and Russia (God knows what) and he just repeated it. Ditto the Tea Party — he knew it had something to do with taxes and it was bad (not to mention bullshit), but he didn't know what exactly it was — so he just babbled, then bounced from that subject.
Eventually he just went to his bag of tricks — filibustering (another shit job by the moderator), funny faces, funny voices, Mexican rapists, windmill cancer. He puffed up his chest and sawed his arms and ranted and raved.
Four years later. Hundreds of thousands dead. Millions out of work. Racial discord. Militia violence. Open, daily corruption.
Who's the audience for this?
The thing is, Biden isn't even so great. We're basically dragging the fucker over the finish line. But can Trump be said to have taken advantage?  He said something about Biden doing something "bad" to Medicare years ago and those of us who pay a little attention know what he's talking about: Medicare reform and maybe Social Security reform. A fair cop — though you'd have to be a moron or Glenn Greenwald to think it means Trump would be better than Biden on either on these issues.
Still, it could have been a great point for Trump. But he didn't know what he was talking about, and when he doesn't know what he's talking about, Trump, unlike non-assholes, actually gets more confident, starts making faces and doing funny voices. "Why didn't you do it four years ago, Joe?" he says, over and over, as if the crowd will approve of him acting like a drink heckler at a comedy club where the bouncers are too scared to throw him out, and then does a blustery voice to imitate Biden (it doesn't sound like Biden) and says he's "just another politician — not like Trump, in 2016, before he held elective office, and which state of grace he thinks he's still in four years later.
The people who thought when he did this in 2016, ha, that's cool, I love when he pops his eyes and saws his arms, it's great he's just socking it to those assholes — do they still think it's cool? If they do, then no matter what happens on Election Day we have a bad problem.