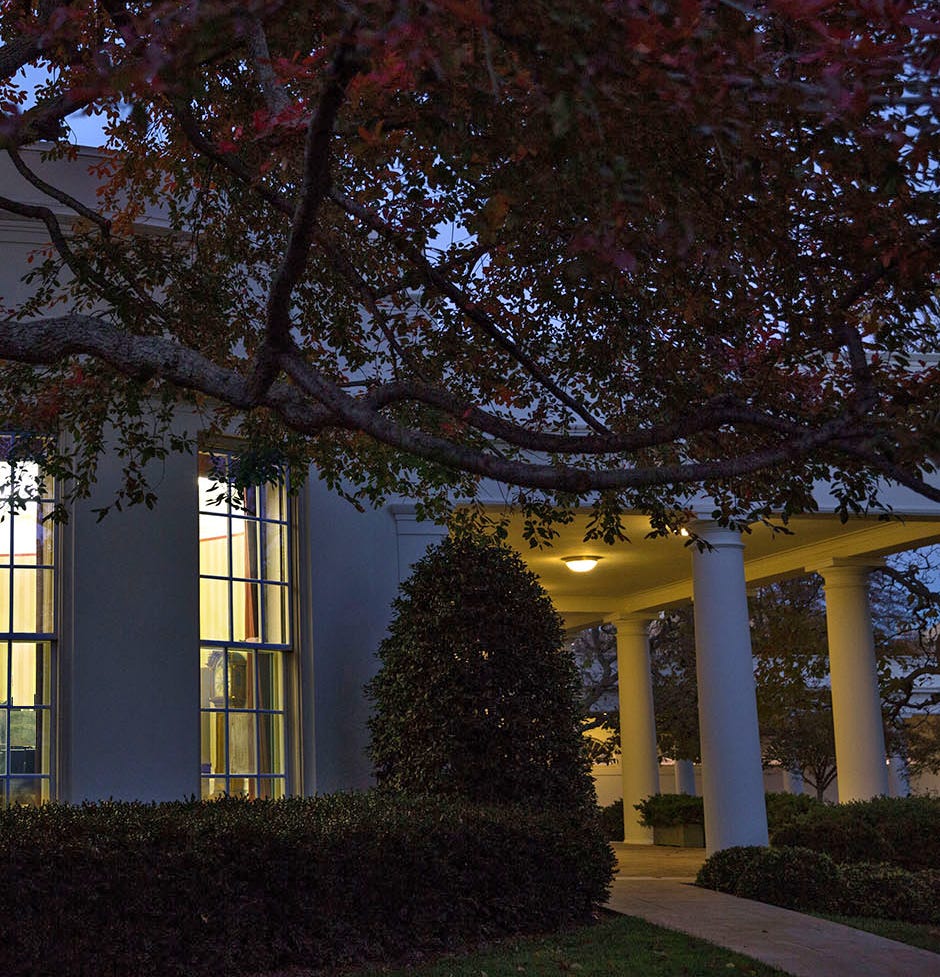 [Nighttime in the Oval Office. At rise the stage is mostly dark; only moonlight peeping in at the windows illumines vague forms of chairs and the Resolute Desk. Suddenly light forms at the cracks of a door, which opens, letting in more light, White House Chief of Staff MICK MULVANEY and TRUMP, in a bathrobe very much like the one worn by André Derain in Balthus' portrait, but much fluffier. His slippers seem to be made of crocodile skin. MULVANEY is dressed as usual in dull businesswear.]
TRUMP: Where you keeping him?
MULVANEY: In the Rose Garden.
TRUMP: What?
MULVANEY: Not to worry, sir. He's quiet, and it's better than keeping him in the hall where the staff might see him. Also he smells.
TRUMP: Oh, liquored up, huh.
MULVANEY: You could say that.
TRUMP: I don't know why we don't just kill the guy.
MULVANEY: Well, as I tell you every time you suggest that, sir, this is not how we do things, and I'm not being a goody-two-shoes, I'm trying to keep you out of prison.
TRUMP: OK, send the rummy in.
[MULVANEY goes to the Rose Garden window, opens it, signals to someone, stands back. Supreme Court Justice BRETT KAVANAUGH comes slowly through the door. His hair is disordered and he has a day's growth of beard. He is wearing the remnants of a judge's robe, filthy, torn, and in places shredded; underneath this he wears pink shorts, boat shoes, and a Yale T-shirt. He is obviously on the second phase of a bender, after the first unwelcome intrusion of sobriety forces a sudden and quicker ingestion of alcohol; he looks exhausted but also stunned and fearful, as if slapped awake.]
TRUMP: Look what the cat dragged in. OK, rummy, I don't like to be woken up. What's on your mind?
KAVANAUGH: Sir. I need help.
TRUMP: AA's down the street. Good night.
[TRUMP turns, starts to walk away.]
KAVANAUGH: Sir!
[TRUMP turns.]
Sir, I need I mean I need help because I can't, I don't, I just don't think I can keep it up anymore.
MULVANEY: Keep what up, Justice Kavanaugh.
[KAVANAUGH shudders.]
KAVANAUGH: Whenever I hear that I get sick.
TRUMP: Better get used to it. You'll be hearing it the rest of your life.
[MULVANEY gestures faintly "don't" at TRUMP, who ignores him.]
What the fuck is your problem, asshole? You got the whole enchilada. Yale Law. Supreme Court. The, whatever else you did before the Supreme Court. Lotta guys would be grateful. You come in here sniveling like Al Martino in The Godfather. Terrific singer, by the way. Coulda had more of a career but he wouldn't play ball. But you're gonna play ball, aren't you, Brett?
KAVANAUGH: You heard what those people said about me.
TRUMP: Forget it! No one cares what happened to a bitch so drunk off her ass she can't remember what happened. It's over and done with!
KAVANAUGH: But the others... they know about the others... I tried, I did everything you told me —
TRUMP: What, like staying sober? Look at you, you're disgusting.
KAVANUGH: [Plaintive] I am disgusting! I am! And now everybody's gonna know! We can't keep it up Mr. Trump — you can't keep it up, not forever! Because it never works, in the end it never works, this is America, and in the end they always find out, you can't keep it up, [babbling] you can't keep it up, you can't keep it up, you can't —
[TRUMP goes right up to KAVANAUGH and slaps him; MULVANEY keeps close behind, more attentive to TRUMP than to KAVANAUGH.]
TRUMP: Alright, rummy, listen good. We paid — [winces] Jesus, what, do you wash with that shit?
KAVANAUGH: Sorry.
TRUMP: Shut up and listen! We paid off your debts, we paid off Kennedy, we got the FBI off your back. We own you. You're only walking around because we want you walking around. And if we decide we don't want you walking around —
[TRUMP jerks a thumb at MULVANEY.]
You see this guy? Get a good look at his face. Because if you cross us, it'll be the last thing you see. You got that? Huh?
KAVANAUGH: [Weakly] I get it.
TRUMP: You better! You know what they call him? Mick the Knife! He's killed a lot of guys and he'll kill you if I snap my fingers.
[Pause. TRUMP holds his fingers up like he's about to snap them; KAVANAUGH covers his face, yelps and falls to the ground. Pause. TRUMP crosses to the Resolute Desk, fiddles in a drawer.]
Don't be stupid, Kavanaugh. We got a good thing going.
[MULVANEY helps KAVANAUGH to his feet.]
You're right, this is America. The land of opportunity.
[TRUMP returns with a bottle of Febreze.]
And everyone gets what's coming to him.
[TRUMP sprays Febreze on KAVANAUGH, who winces.]
OK, that'll keep 'em off the scent, you can go out the front door now. Go, go.
[KAVANAUGH heads for the inside door.]
Hey!
[KAVANAUGH stops, turns.]
Remember that song? [sings in a wispy voice] Oh the shark has pretty teeth dear/ And he shows them pearly white/ Just a jackknife has Mick Mulvaney… Hey-o! [Speaks] G'wan get outta here.
[KAVANAUGH leaves. Pause. TRUMP walks to MULVANEY, who appears sunken into himself as he has at times in the past.]
TRUMP: See? You gotta know how to talk to them.
MULVANEY: Watch how you talk to Mick the Knife, sir.
TRUMP: You know, one of these days I may kill that fucker anyway, and you better hope I do, because if I don't you know he's gonna break down and spill his guts about how you were gonna kill him.
MULVANEY: Of course then you go down too.
TRUMP: You know how you said you were trying to keep me out of prison? [Claps his shoulder] Keep up the good work.
[TRUMP goes back toward the residence. MULVANEY stands staring into space as the curtain falls.]